Ideas and solutions for your signage and marketing needs.

Connect here for exclusive promotions, discounts & more!
Business Signs, Banners, Car Wraps & Digital Printing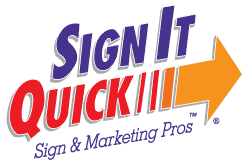 The folks at Sign It Quick were soooooo helpful in making and designing a banner for the back of our RV. They worked with us and changed design details until we were very satisfied Then they created the banner and afixed it to the RV. It is beautiful and we would recommend this firm for any needed work.
Thanks for a job well done.

– Scotty & Donna L.
Download Sales Explosion NOW!
With decades of success across multiple industries, Sign it Quick founder and self-made millionaire, Frank AuCoin shares his personal sales strategies! In Frank's Sales Explosion audio download you'll learn his proven practices and techniques to 10X your revenue from sales. Frank's tactics will serve you and your business for years to come.