Connect here for exclusive promotions, discounts & more!
We Are More Than Just a Sign Company
Established more than 30 years ago by Frank AuCoin, Sign It Quick locations are all about making you and your business look good by providing to you the best customer service on the planet and by making your sign ordering process easy and enjoyable.
Here at Sign It Quick, customers can always expect a level of service that is second to none. Our professional employees are highly trained to design, manufacture, and deliver superior products that will always exceed the expectations of our valued customers.
From custom window decals and dimensional lettering services, to yard sign, vehicle graphics, and other promotional products, we offer everything that companies will need to take their marketing efforts to the next level. Be sure to check out our Sign Tips page for ideas. Customer satisfaction is always our first priority.
We have more than 30 years of experience.
As the old saying goes, "Necessity is the mother of invention." The little-known corollary to that famous saying is: "Inspiration is born of need and frustration." More than 30 years ago, Frank AuCoin, founder and chairman of Sign It Quick International, Inc., needed custom signs made – fast. He had to find someone reliable and professional to handle the job. After a far-from-pleasant experience, Frank realized there had to be a better way to get custom signs and banners made. Thus was born Sign It Quick… and Frank's mission statement:
"Perfect Signs Produced on time – designed, manufactured and delivered by well-trained, happy professional people!"

– Founder, Frank AuCoin
This mission statement makes Sign It Quick more than a typical sign store. Sign It Quick provides quick, professional service for all your signage and lettering needs: from real estate signs to digital printing, window lettering, vehicle lettering, magnetic signs, banners and more.
1993 – Columbia, SC Sign It Quick owner Julie Wetherell was voted Business Person of the Year for Columbia. In 1994, she was voted Business Person of the Year for South Carolina.
1994 – Charleston, SC Sign It Quick owner and franchisor Frank AuCoin was voted Business Person of the Year for Charleston. In 1995, he was voted Business Person of the Year for South Carolina.
Sign It Quick was voted #1 twice by the South Carolina Chamber of Commerce.
WORLD RECORD HOLDER
In 1988, Sign It Quick produced what was, at the time, the world's longest banner – 1,544 linear feet – in less than 24 hours! Now that's what we call on-time service.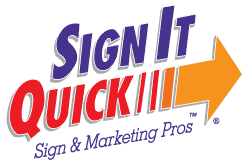 Signs Create Business and Profits
5101 Dorchester Rd
Charleston, SC 29418
(843) 552-2626
710 Gracern Rd
Columbia, SC 29210
(803) 731-2001
3338 Atlantic Blvd
Jacksonville, FL 32207
(904) 724-4321