Grocery shopping, going to work, and dining out have undergone drastic makeovers, (or maybe we should say makeunders?) since COVID-19 took hold of the nation in March.
From social distancing stickers on supermarket floors to posters sharing COVID-19 safety protocols at restaurants and shopping centers, business signage has concurrently experienced an overhaul as well. If you're trying to decide which signage is a necessity in 2020, we recommend these five types of signage for your business during COVID-19.
Floor decals for social distancing 
Before March of 2020, the term "social distancing" sounded like something introverts would toss around to avoid large crowds or family get-togethers. Now, however, it's nearly impossible to visit a store, office building, or a place of worship without hearing the term umpteenth times. While verbal reminders are appreciated, in business places like grocery stores and shopping centers, it's easy to get too busy or caught up in your day to remember to vocalize those reminders. Enter floor decals.
Floor decals have been popular in subway stations, at amusement parks, and in other high traffic locations for years. Typically brightly colored to grab a patron's attention, these signs help direct the flow of traffic, keep people moving in the right direction or alert you where you should get in a line to check out. As we're sure you've seen at the supermarket, floor decals are performing the same functions now, just with a COVID-spin.
Floor decals are now used to ensure people waiting in the check out lines remain a safe six feet apart. Stores are also using floor decals to ensure people move in the same direction throughout their shopping experience. (Too many people clogging a grocery aisle isn't exactly conducive to social distancing).
Sandwich boards quickly to attract customers 
If your business is in a heavy foot traffic area, sandwich boards, otherwise known as A-frame boards or A-frame sandwich boards, can have a big impact at a low cost. As protocols change on a nearly weekly basis, sandwich boards are an easy way to keep customers in the know.
Did you reinstate curbside pick-up? Do you have a two-day sale special? Are you offering a new buy one get one deal? Chalkboard and whiteboard sandwich signs offer flexibility in your messaging and allow you to update your offerings in a matter of minutes.
Safety posters inside businesses to keep guests and employees safe
Will your business only allow people to enter if they're wearing a face mask? Maybe you can only have a certain number of patrons safely inside your store at one time? While you may think you have effectively communicated your new protocols on your website and social media channels, people who come to your place of business must know exactly what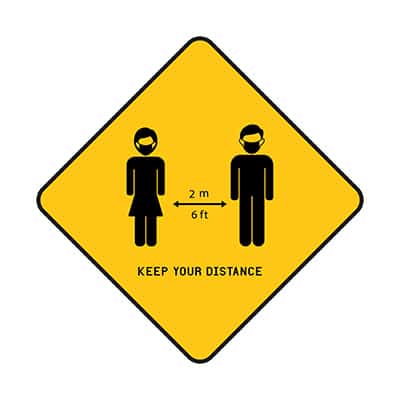 they can or cannot do in terms of COVID safety.
Safety posters displayed throughout your business, explicitly stating your COVID rules, are an easy way to keep guests safe and in the know. Aside from creating awareness for store visitors, COVID safety posters should be shared for employees, behind the scenes as well.
Before COVID, it was common to see signs mandating "all employees must wash their hands before returning to work" and some common OSHA protocols. In a COVID world however, a reminder for employees to wash their hands and keep up with OSHA practices is just the tip of the iceberg.
Not sure which COVID safety poster(s) you need to keep patrons and employees safe? We recommend at least one of the following?
Face masks required before entering
Temperature check required before entering
Are you feeling under the weather? Please stay home if you're feeling sick
Please don't exceed max-occupancy
Temporary store hours
Please remain six feet apart from other individuals
Vehicle decals and car wraps to boost brand awareness
There's no denying that marketing budgets have tightened throughout the coronavirus pandemic, leaving small businesses to look for the most effective yet affordable options available. According to experts, every vehicle on our nation's roads gets seen 17 to 20 million times annually. If you're looking to get the greatest bang for your buck while creating phenomenal brand awareness, vehicle decals and car wraps could likely be the best choice for your business's marketing needs.
At Sign It Quick we can easily take your company's name, logo, and slogan and create a design that will captivate and catch the attention of prospective customers. Now, more than ever before, you need to make your advertising dollars work their hardest, and vehicle decals and car wraps can help you reach your bottom line.
Banners to grab attention and share encouragement
If there's ever been a time where people are longing for positivity, encouragement, and kindness, we'd say now is that time.
Banners are an easy way to generate goodwill when it's needed most. Whether you want to share the message that, "We're all in this together!" or a simple, "We support small business!" banners are an easy yet effective way to show support for your local city and community.
What's Next?
There is no playbook for COVID, but there is signage your business can utilize to affordably and effectively generate awareness, promote safety, quickly notify of store updates, and share a message of hope during these challenging and unusual times.
Do you have questions about which COVID-era signage is most appropriate for you? Contact us today!