We're nearly three months into 2020 and whether you're ready or not, it's time to reevaluate your first quarter goals. Are you on track to hit your goals? Perhaps you're falling a bit short of reaching your goals? Whatever the case may be, now is the time to reevaluate your marketing efforts to capture the interest of prospective buyers, clients, and customers. Despite popular belief, peaking the interest of new customers doesn't always require a huge marketing budget or dozens of hours spent brainstorming and strategizing advertising techniques. A surprisingly easy place to start is signage. (Yes, signage!)
Whether wrapped around your vehicle or shining brightly outside your storefront, these signs will help your business stand out in 2020 and beyond.
Vehicle wraps are bold, vibrant and easily command attention from other vehicles on the road. Experts say every vehicle on our nation's roads gets seen 17 to 20 million times annually. Thinking of it that way, purchasing a vehicle wrap can get millions of eyes on your business a month!
According to the Outdoor Advertising Association of America (OAAA), vehicle wrapping is a worthy investment. The cost per thousand impressions (cpm) of a vehicle wrap is $0.77. This CPM is lower than alternative advertising techniques including:
Radio – $7.75 CPM
Newspaper – $19.70 CPM
Magazine – $21.46 CPM
Television – $23.70 CPM
Aside from being more cost-effective, vehicle advertisements also make a positive emotional impact on those who see them.
According to the Visual Impact of Trucks in Traffic study, it's proven vehicle advertisements are positively received by the public.
75% of audiences developed an impression about the company and its product or service
98% of audiences said vehicle advertisements made a positive impact
91% of truck advertising audiences noticed the text and graphic on the vehicles.
29% said they would make a buying decision based on the vehicle advertisement they saw.
Aside from the studies and statistics, we think vehicle wraps are fun, eye-catching and make your business stand out. Check out some of our favorite Sign It Quick vehicle wraps!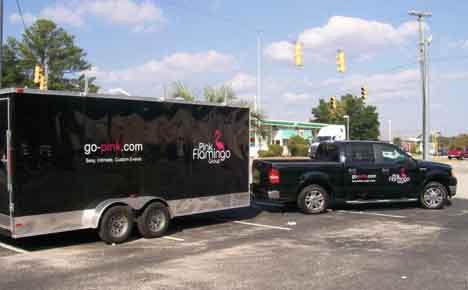 We wrap trailers too!
Point of Purchase/Sale Signs
Let us set the scene. You have been grocery shopping for upwards of an hour. You just got in line to check out and you're exhausted, annoyed and looking for a pick me up.
And there it is!
Behind a frosted glass case is an ice-cold Diet Coke with your name on it. You hadn't been thirsty up until that moment, but it looked so refreshing that you had to grab it and take a sip right away.
The Diet Coke you were enticed to buy hadn't been placed in that exact location by happenstance. In fact, it was put there on purpose so you would be more likely to buy it! Point of purchase signs work in the same way for your customers.
Whether announcing that all men's jackets are half off store-wide or letting prospective customers know what your soup of the day is, point of purchase and point of sale signs make your product, services and pricing easy to read and attractive to customers at the most critical of times. Your point of sale signs can include motivating customers, creating impulse buying, sharing relevant information, and more.
Point of purchase signage is so powerful that it can be thought of as the "silent" salesperson. A Brigham Young University study discovered that displays accompanied by signs outperformed displays that didn't have any signage by 20%.
Entering an entirely new decade (hello there, 2020), we would be remiss if we didn't mention digital signage. Not only do digital signs easily capture your customer's attention, they are versatile, easy to use and boost brand awareness.
Versatile – With digital signs and digital displays, you have the full range of signage creativity available to you as well as the ability to change the content whenever you like. In other words, your signs change with your business, allowing you to advertise a limitless amount of messages only using one sign. One day you can promote a sale on swimming pool installation and the next you can share your updated store hours.
Easy to Use –Sign It Quick's digital signs are just as easy to use as they are versatile. When you choose digital signage from Sign It Quick, we offer a content management tool that makes plugging in new content easier than changing out a traditional sign's letters. Simply input the new content and watch the digital sign change before your eyes.
Easy to Read (and look at)! – Aside from being versatile and easy to use, digital signs are captivating and eye-catching. Don't just take our word for it! A three-month study on digital signage technology by Intel uncovered that digital signs captured an average of more than 400 percent more views than a static sign.
Whether wrapping your vehicle with an advertisement, using it to bolster sales and foot traffic at your brick and mortar location or standing apart from the crowd with a jaw-dropping digital display, Sign It Quick can help you achieve your business goals in 2020!
Request a Quote now!